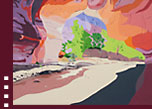 custom tours
Contact us to learn more about the MNA Ventures Program.

Museum of Northern Arizona
3101 N. Fort Valley Road
Flagstaff, AZ 86001
Phone: 928-774-5213 / Fax: 928-779-1527
E-mail: ventures [at] mna.mus.az.us
MNA is located 3 miles north of historic downtown Flagstaff on Highway 180. Open daily, 9 a.m. to 5 p.m. MNA is a private, non-profit 501(c)(3) educational organization that receives no regular tax-based funding.