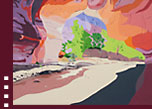 custom tours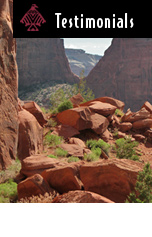 "Ventures takes you where you have never been, to places you barely or never knew existed. After the experience you ask yourself why you didn't go sooner and wonder how soon you can go back." —R.W.
What MNA Ventures participants are saying…
Canyonlands and Arches
"Wayne knew what places to take us to; his knowledge of the area was tremendous; he never tired of answering our questions."—D.Z. and J.Z.
"The choice of itinerary was excellent—a full body of information on the area."—M.C.
"Wayne is always so in tune with the needs and desires of the group and adapts the trip to suit the group's abilities and wants. What a pleasure!"—G.J.
"It was nice not to carry a heavy pack and nice to know there was a warm shower and bed waiting."—G.J.
Chacoan World
"Expert perspectives on complex topic was invaluable." —J.D.
"The educational aspect of the trip was superb. I never expected to come away with such a rich appreciation of the archaeology and anthropology of Chaco. David was totally engaging every time he spoke, and encouraged us to draw our own conclusions."—B.K.
"Very enjoyable, educational, fun, and well organized and executed."—D.Z. and J.Z.
"Excellent thematic approach to Southwest archaeology. Nice intro to "big picture" questions."—K.C.
"Excellent educator! Obviously he loved his topic and wanted to share everything he could about it."—C. S.
"The trip was great. The camping, hotel accommodations, food and company made this an enjoyable trip. We will defiantly take part in another Venture trip."—B.K and C.K.
"The strongest aspect of this program was David. His knowledge and ideas brought this culture to life."—B.K and C.K.
top
Canyon de Chelly
"Dave and Delbert made the canyon come alive for me. They are men who know how to make you feel like family immediately. Don was a superb guide. He is a master at creating an atmosphere of friendship. Cathleen was amazing. She was the first one up and always had the coffee going. I appreciated the way she brought the female touch to the group. Terry was phenomenal. He was patient and went the extra mile to provide those special moments that I will always treasure."—M.K.
"It is the best method for connecting to those who have gone before us and the lifestyle they led. We must walk where they walked and feel their vibrations."—M.A.
"Dave Wilson and his family are excellent hosts and guides in Canyon de Chelly."—S.C.
top
Exploring Escalante
"Ann and Don were a fabulous team, each complementing the other. The poetry and music at night was great. The leaders were very flexible and super fun."—S.V.
"It's always such a pleasure to have Ann and Don leading us!! Ann sharing her expertise as a naturalist and a poet and Don sharing his archeology expertise and knowledge of the area."—B.J.
"I already have recommended your programs to others. I assume all your programs and services would be at this caliber. Also most everyone on the trip had been on other trips and had enjoyed all of them." —L.T.
"I have never been on such a trip, although my husband has. I found I really enjoyed it. (I am usually a more "city type" of woman). I would definitely recommend MNA [Ventures] to others (and already have) because you are detail- and people-oriented." —G.C.
top
Explorations of the North Kaibab
"I love to travel with MNA because Don is so knowledgeable, and I not only love the country but love learning about it." —S.J.
"I will recommend Ventures Programs to others, which I find unique, high quality, and with great people involved. Your folks seem to have a good handle on this; keep up the good work." —M.A.
"The opportunity to see these archaeological places and learn about them from someone with Don's expertise is worth its weight in gold." —M.S.
"First car camp for me…it was great…not to carry a pack yet have a pretty isolated outdoor experience. Loved the hiking and having a chair [back at camp] was pretty special. Food was great…fresh green salad every evening! People were great. Very nice trip! I was awed by the camping luxuries." —B.J..
top
Grand Canyon Rim to Rim Backpack
"Having the opportunity to view the canyon with a geologist was amazing. The side hikes he chose were so much fun and added to the excitement of this adventure."—G.J.
"The trip was very safe, the price is reasonable, everyone from the MNA side was a pleasure to be around, and everything was very well organized. I am constantly telling people that they need to see the Grand Canyon, and not from one of the rims."—D.R.
"This was my first backpacking trip ever. Wayne kept us safe, informed, relaxed. His geology talks were comprehensible and interesting. He paid attention to each of us. He was fun!"—S.C.
"I had specific, preconceived expectations for this trip and they were all met or exceeded. Wayne was a warm, enthusiastic leader. His passion for his science and his canyon is evident in the manner that he conducted our trip. Elaine was a wonderful supporter with her own personal slant on the canyon." —L.M.S.
"The strongest aspect [of this trip] was Wayne's knowledge of the region and uncanny ability to convey that information in an easy-to-comprehend and enlightening manner." —A.C.
top
Introduction to Hopi Culture
"…the personal approach, informed leaders/staff made my Hopi experience unforgettable." —J.C.S
We have already recommended MNA's programs to our friends and will continue to do so because MNA offers programs that assume intelligence on the part of the participants. This trip was educational and fun! Thanks." —D.B. and K.B.
"[I] would recommend [Ventures] highly….well-conducted and organized tour." —B.M.
"Enjoyable 1-day tour." —D.W.
"Thank you. [This trip] was one of the best days I have ever experienced — the fulfillment of one of my must-do's. Susan [Secakuku] was a marvelous guide. I would recommend MNA services and programs to others because of the knowledgeable staff." —T.S. and J.S.
"This was a strong learning experience." —F.A and C.A.
"I could not learn from exhibits and books what I experienced in one visit to the Hopi Mesas…I would recommend the Ventures program to others." —G.B.
"Susan [Secakuku] was very personable and informative…Jerry had the most information to impart and [I] would love to take classes or another trip with him." —G.C.
"Nice format — educational — gained deeper appreciation of Hopi Culture. Loved it!" —J.K. and H.W.
top
Navajo Trading Post Tour
"The leadership could not have been better. Jim's sharing of knowledge, history, past events and openness to questions was extremely educational and uplifting, and Anne's input was great as well. The itinerary was well designed to give contrasting information on the Trading Posts as well as the terrain on the Reservations. The people we met along the way, known to Jim and Anne were warm, kind and informative."—M.A. and D.A.
"Jim's knowledge about trading post operation from working at them and the Babbitt family connection resulted in the best possible tour leader."—P.A. and N.H.
"Jim and Anne were wonderful to travel with and very sensitive to individual needs. I have been on several group tours in the Southwest and they rate at the top!"—A.S.
top
San Juan River
"I would definitely recommend the Ventures programs to others, and have! Good coordination of the entire trip. Personnel were competent and made me feel safe — like the trip was centered around my convenience and not that of the 'company.'" —J.A
"Yes-indeed. [I] plan on doing another rafting trip next year." —J.J.
"Everything was well-thought-out and organized." —Anonymous
top
Paria River Backpack
"This was my third trip with Ventures. Well organized. Leaders set just the right tone and pace."—J.P.
"I thoroughly enjoyed this trip. The extra time built in allowed time to really stop and enjoy the scenery… I didn't feel pushed from point A to B!"—R.S.
top
Miscellaneous
"The accommodations for vegetarian food were above par!" —B.K
"Participating in the Venture program gave me an extra dimension of appreciation. It was the difference between just visiting an amazing place, and getting an education into the possibilities of the place."—B. K.
"Terrific group leaders with real knowledge of the area and social histories. The [camp] library [provided by our trip leader] was great. Food was terrific. Selection of hike areas was good."—S.V.
"I really enjoyed reading the articles you provided us and will use them again for future trips on our own to the area."—P.M. and B.M.
"The program is so worthwhile. One gets back to nature, gets history on where we go, we get great stories and more. I always recommend MNA Ventures, for the place you go and the learning one gets on the trips."—J.K.
I have participated in two or three programs for several years. I have never felt short-changed." —M.D.S.
"Yes, we would consider participating again, because it was an enlightening adventure, joyous and the type of program that attracts fascinating and positive participants. We will definitely recommend the Ventures Program to others because of the level of professionalism and great value in numerous ways."—M.A. and D.A.
"We went to places we did not even know existed and would not be comfortable trying to visit some of the places on our own."—P.A. and N.H..
top